Buckingham Palace Announces the death of The Duke of Edinburgh, Prince Philip
Osaze Isesele
Buckingham Palace has announced the death of Prince Philip, The Duke of Edinburgh.
In a statement made available to the public, The Queen announced the death of her beloved  husband, His Royal Highness – The Prince Philip describing his demise as one characterized with deep sorrow.
Prince Philip was said to have passed away early hours of Friday, 9th April, 2021 at Windsor Castle.
Born 10 June, 1921, The Duke  was married to Queen Elizabeth for more than 70 years and became the longest serving consort in British History.
Aged 99 before his death, Prince Philip oversaw the modernization of Buckingham Palace after the Second World War, as well as reorganizing the Balmoral and Sandringham estates and becoming ranger of Windsor Great Park and as a royal consort for seven decades, Prince Philip was widely  acknowledged as a huge support for Queen Elizabeth.
Tributes pour in as Buckingham Palace Announce the passing away of Prince Philip
Prime Minister of the United Kingdom and Conservatives leader and Member of Parliament for Uxbridge and South Ruislip, Boris Johnson has sent his tribute to the The Royal Family following the demise of Prince Philip.
In a statement released on his official Twitter Page, Boris Johnson said he "inspired the lives of countless young people".
Speaking at Downing Street, the prime minister added: "He helped to steer the Royal Family and the monarchy so that it remains an institution indisputably vital to the balance and happiness of our national life."
Mr Johnson said he received the news of the duke's death "with great sadness".
"Prince Philip earned the affection of generations here in the United Kingdom, across the Commonwealth, and around the world," He said.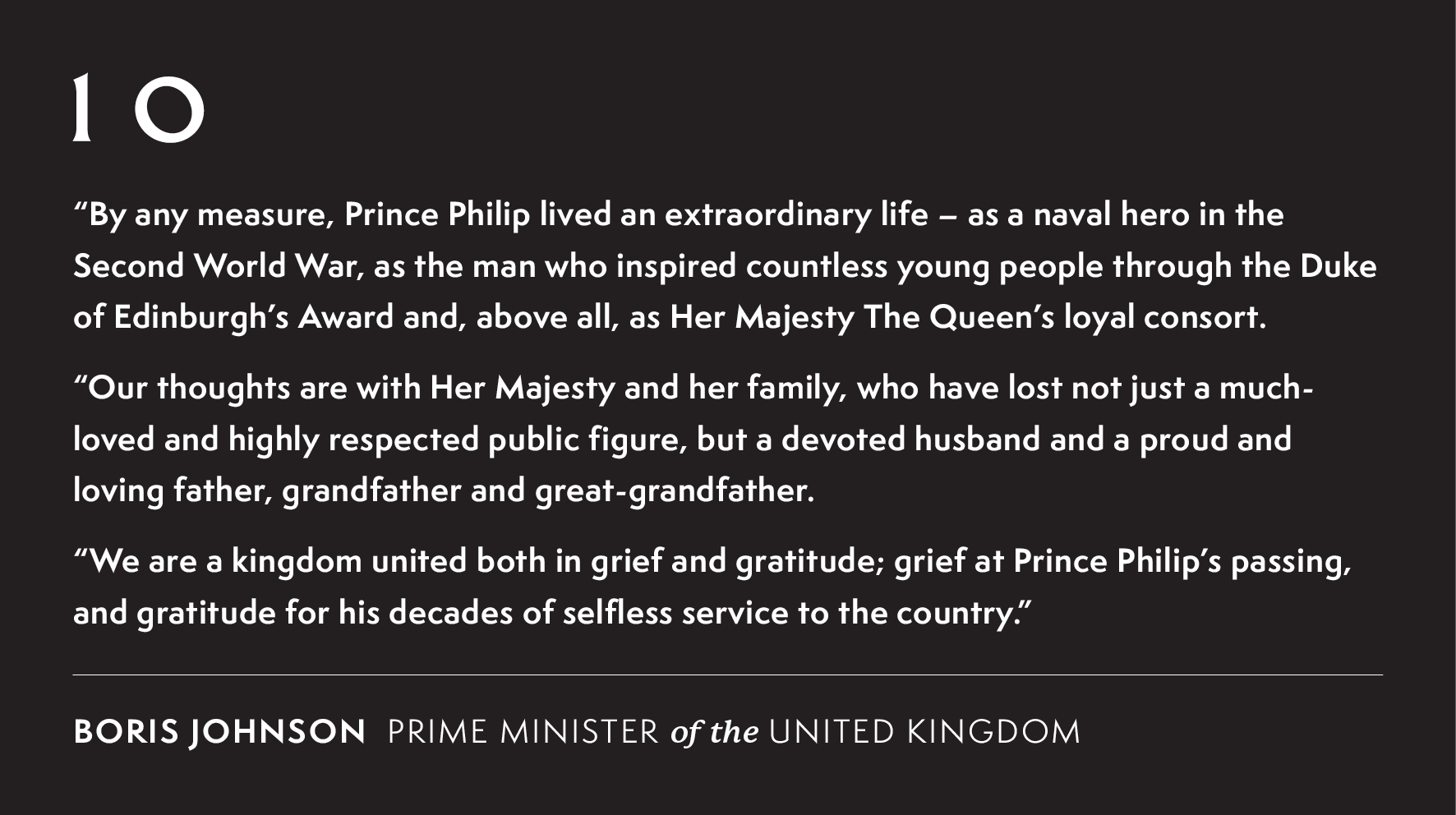 Leader of the Labour Party., Member of Parliament for Holborn and St Pancras and Former Director of Public Prosecutions, Keir Starmer, posting on his official Twitter page noted that the United Kingdom had lost an extraordinary public servant in Prince Philip.
He said "Prince Philip dedicated his life to our country – from a distinguished career in the Royal Navy during the Second World War to his decades of service as the Duke of Edinburgh".
Heiko Maas, German Minister of Foreign Affairs, tweeted
"We are deeply saddened by the loss of His Royal Highness Prince Philip. Our thoughts and prayers go out to the Royal family, the people of the Commonwealth, and all who loved him dearly. He lived a long life of service to his country".
He underwent a procedure for a pre-existing heart condition at another London hospital – St Bartholomew's.
Prince Philip and the Queen had four children, eight grandchildren and 10 great-grandchildren.
Their first son, the Prince of Wales, Prince Charles, was born in 1948, followed by his sister, the Princess Royal, Princess Anne, in 1950, the Duke of York, Prince Andrew, in 1960 and the Earl of Wessex, Prince Edward, in 1964.